Happy Tiddly Tuesday!!!!!!!
Morning peeps!!!! its another fabby Tiddly Tuesday over on the
Tiddly Inks challenge blog
and this week us on team Tiddly were challenged to make some
mini creations for any little peeps in our life. So our challenge this week is.....
If you need some idea's look
Here
and
Here
as there are oodles and not forgetting our awesome team Tiddly who have been inching up a storm!!
I have been feeling rather christmassy this last week so my little creation just had to be something christmassy for my little Mo. He absolutely loves christmas and we always put little lights in his bedroom for him.
I found these cute flickering tea light candle lights in the poundshop and he loves them. They flicker like a real candle but are super safe as they are a teeny light! yey!!!
I made a mini version of my lovely friend Catherine's kleenex tissue box to make my little holder and my cute Inky Critters snowman is an inchie!! the whole little thing measures 2 inches wide and deep and 2.5 high.Super cute!!!
And here is a kinda night time piccy of the little snowman and his candle!!!
Now, whilst I am here blogging away I would like to pop in a quick mention for our Meredith who has a friend called Ryan who had an accident. He is making good steps in his recovery but has recently really responded well to a few cards he had been sent.
Please click on this piccy below to take you to Meredith's post all about Ryan. I am sure he would love to recieve a few inchie creations if you want to make something to join in the chance to win some goodies from Meredith.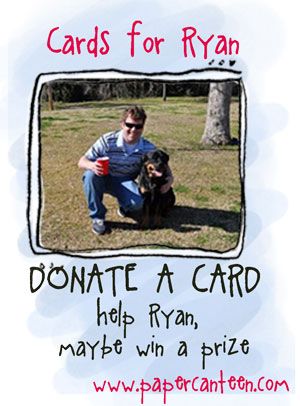 and please feel free to post the linky for Ryan on your blogs too.
Have a great day !!
Hugs Lou xxxx