I am so excited this morning because the release day for Christy's gorgeous new clear stamps is here and oh my gosh!!!! you will love them all....I know this because I did!! he he he he!!!!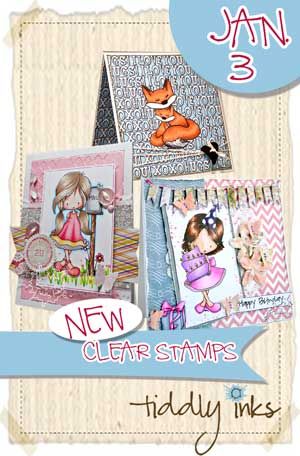 So, the gorgeous little My I Love You stamp got Lou colourage first :) I just adore this stamp, because it is stunning and because it reminds me of my little Mo. A while ago he asked Christy for a Wryn with a fox and she drew him the awesome digital stamp Wryn and Mo so you can imagine how over the moon Mo was to see this stamp.Hence to say this card will be Mo's valentines card from me and daddy!!
The papers on this card were also made by Christy but I can't see them in the shop so you might need to beg her to release those in time for your valentines day makes :)
Next up we have a little make with 'Annabelle Birthday Wishes'....
For some reason I seem to have lines across my paper in this piccy and the camera really picked them up!! they are not on the paper when you buy it though so it must of been an ack day for my printer!! (lou wishes she had noticed dang lines before now...!!!) The paper is from the Yummy Paper set in the store. She's just so sweet! I loved colouring her up.
And there's also 'Cloud 9' in clear stamp for you too...
Along with another 2 gorgeous sets... 'Happy Mail' and 'Too Cute To Spook'......
Now
the Tiddly Inkers have all been busy over christmas making some stunning samples to get you inspired and oh my gosh they rock so don't forget to peek in on the
Tiddly Inks blog and see whats over there
!!
Right, I have to get my butt into gear, its back to work for me today :( sad face because I feel really poo with this terrible bug still and poor little Mo is still really sick :( we went to visit my Grandad yesterday and he got all the way there fine and then he was really, really sick as he got out of the car, this bug just doesn't seem to want to leave him alone :( He didn't let it bother him though and soaked up some Grandad time....
So Mo gets a daddy day today and then snuggles with mummy tonight!
I will be back with a scheduled post for the new Saturated Canary challenge this afternoon.